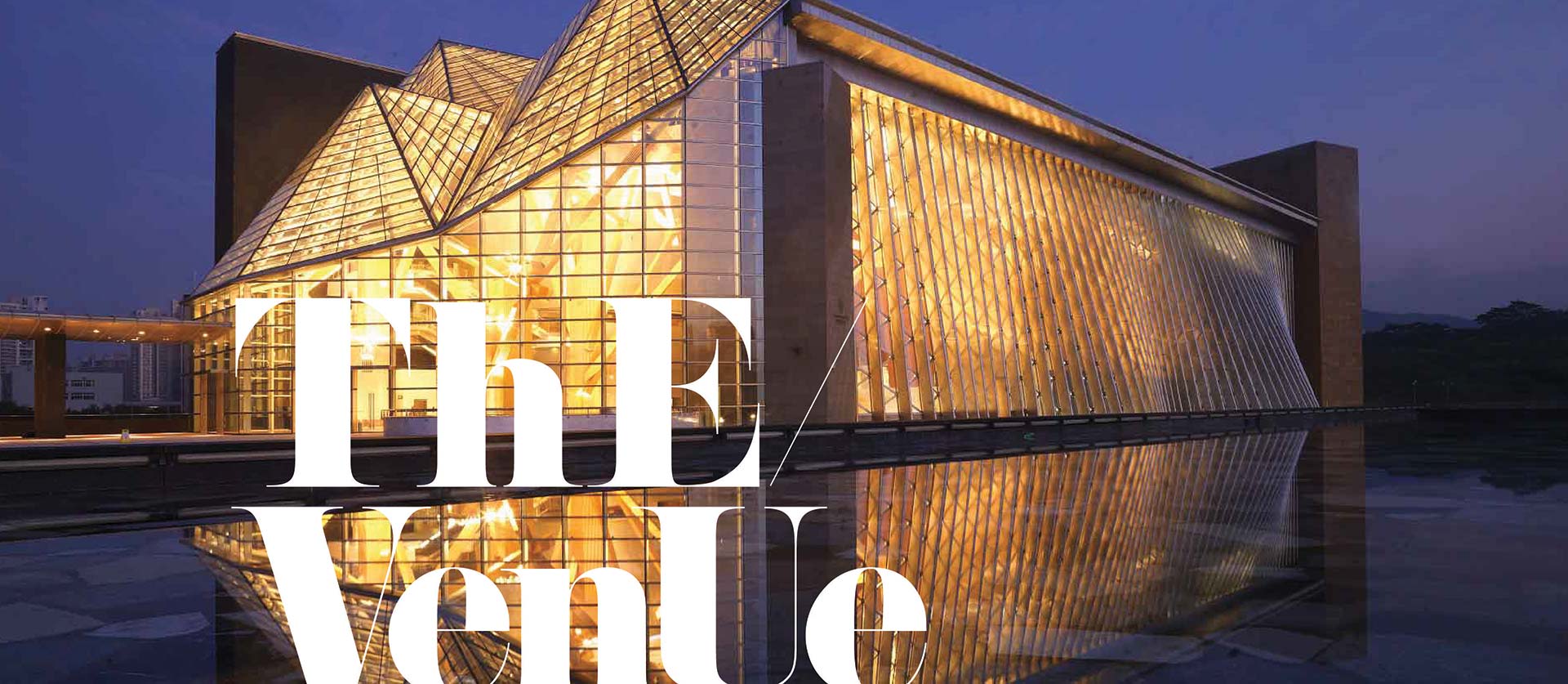 Shenzhen Concert Hall is the landmark architecture among the cultural facilities of Shenzhen, located in the heart of the city. This hall is designed by Arata Isozaki, the famous Japanese architecture master, who enjoys a reputation in the international construction field and is constituted by Symphony Hall, Theater Studio and other subordinate facilities.
The Symphony Hall is a pure natural acoustic hall, designed according to the vineyard manner, and contains 1680 seats. The pipe organ in the Symphony hall is the only gigantic organ in Shenzhen. There are set facilities like Golden Tree Foyer Outdoor Music Square, Recording Studio, Video Studio, VIP Rooms, Dressing Rooms, Audience Lounge. Besides, those facilities have greatly enriched the artistic charm and practical functions of the hall. Strolling inside, you will feel the sense of art and the joy of spirit. 
SHENZHEN
CONCERT
HALL
The establishment of Shenzhen Concert Hall has provided a professional artistic place according to the international standards for those international activities such as the performance of world-renowned symphony orchestras and international music competitions. Since the opening in October of 2007, Shenzhen Concert Hall has held more than 2000 performances and activities with a reception of more than 3,000,000 person-times. Rich performance style and high-quality performance content keep surprising the audience. Many famous maestros and orchestras around the world has been invited to perform on stage, such as Berlin, Israel, London Philharmonic Orchestra, The Philadelphia Orchestra, Zubin Mehta, Lorin Maazel, Eisenbach, Tan Dun, Yo-Yo Ma, Lang Lang, Itzak Perlman, and Sabin Mayer which enchanted the audience with world-class wonderful music.
Awarded as "The National Civilized Unit"in 2011 and 2014, obtained lots of honorary titles, such as "Top Ten Dynamic National Theaters","Top Ten Benevolent Entrepreneurs", "The Most Competitive Brand in Guangdong Province", etc.
Shenzhen Concert Hall not only develops into one of the most important concert halls in China, but also becomes a dazzling star of Shenzhen culture and an important benchmark of Urban Civilization Progress, which has made a huge contribution to the culture of this city.