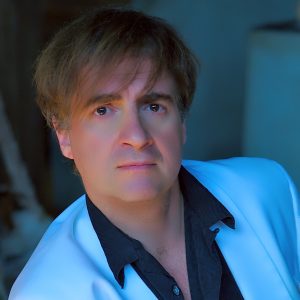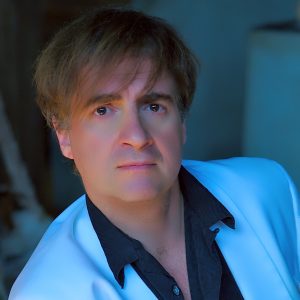 Maxim Mogilevsky comes from an exceptionally distinguished family of musicians: his great-grand fatherAlexandreMogilewsky, friend of Rachmaninoff, Koussevitzky and Scriabin, was a notable violinist who livedand taught in Harbin and Shanghai, was a professor at Geidai University in Tokyo and was one of thefounders of the Japanese Violin School. His grandfather cellist David Mogilevsky was a founding member of theGlazunov String Quartet and a friend of Shostakovich. His father pianist YevgenyMogilevsky won the 1964
Queen Elisabeth Competition in Brussels.
Having impressed audiences worldwide with his fiery performances and distinctive interpretations, MaximMogilevsky made his debut at age thirteen with the Moscow Philharmonic Orchestra and Dmitri Kitayenko towidespread acclaim. Since then he has gone on to perform as a soloist with major orchestras around the worldand undertaken many unique artistic projects. Called by The Washington Post "…a pianist with distinctivepersonality, outstanding technique, and an inclination to stamp his own imprint on whatever he plays,"Mogilevsky has become a favourite of musicians and audiences worldwide.
His orchestral appearances include the New York Philharmonic, Seattle Symphony, Turku Philharmonic,Orchestre National de France, Rotterdam Philharmonic, Mariinsky Orchestra, St Petersburg State SymphonyOrchestra, Russian National Orchestra, Orchestra Novaya Rossiya, Moscow Soloists Ensemble, SvetlanovOrchestra ("GASO") and the St. Petersburg Philharmonic Orchestra, to name a few. Maxim has performedunder the batons of internationally renownedconductors, including Seiji Ozawa, Gerard Schwarz, YuriBashmet, Mikhail Pletnev, Leif Segerstam and Valery Gergiev among many others.
Along with recital performances on five continents, Mogilevsky's notable appearances include those atCarnegie Hall, Lincoln Center, the Kravis Center, and Segerstrom Center for the Arts, Lincoln Theater, JordanHall, as well as at the Salzburg, Edinburgh, Ravinia, Ruhr Klavier and Spoleto Festivals.
Mogilevsky's New York debut in December 2007 was with Mariinsky Orchestra and Maestro Valery Gergiev atCarnegie Hall and in May 2010 with the New York Philharmonic and Gergiev. Recent activities include a twomonth-long tour of South America with the St. Petersburg State Symphony, a collaborative project with fourballerinas from the Mariinsky Ballet performing Tchaikovsky's "The Seasons", and recitals in Los Angeles,Miami, Tokyo and Paris. Maxim opened Martha Argerich's "Progetto" Festival in Lugano with a recital in 2013.This year, Mogilevsky performed with Yuri Bashmet and the Moscow Soloists at the Bashmet InternationalAcademy and Festival in Samara, Russia.
In the summer of 2015 Mogilevsky organized a piano institutetogether with the Lang Lang Music World at TheSummit Music Festival in New York. Later in August 2015 directed a workshop in cooperation with the BeijingCentral Conservatory and German Goethe Institute in Boston, MA. Last year Mogilevsky organized a
Shostakovich Festival and a Teaching Academy at the China Conservatory in Beijing.
In November 2019 Maxim organized Second Mariinsky Gergiev Festival in Nanjing.
MrMogilevskywill perform with Maestro Gergiev and Mariinsky Orchestra in February 2020 at Mariinsky Opera House of st Petersburg.
In November 2019 Maxim was a speaker and participant of the Cultural Forum of Russian Federation in st Petersburg.
In July 2020 MrMogilevsky will perform for the world leaders at the BRICS Countries world forum in Chelyabinsk and Economic Forum at St Petersburg, Russia.
In July 2019 MrMogilevsky recorded complete Tchaikovsky piano concertos with GASO Tatarstan orchestra of Kazan.
In 2020 MrMogilevsky will appear with Martha Argerich touring in China and Taiwan.
MrMogilevsky was chosen by Maestro Pletnev to be a soloist for Russian National Orchestra debut performance at Mariinskytheater.
In 2014 while teaching at New England Conservatory of Music in Boston, MrMogilevsky helped George Li to prepare and to win Second Prize at the XV Tchaikovsky Competition in Moscow.
MrMogilevsky was awarded an Angel Award by Edinburgh Festival in 2013, for performing on one hour notice instead of indisposed artist.
MrMogilevsky was awarded Gold Mask award by Russian theater Association, International Classical Music Award by European Critics Association.
In November 2018 MrMogilevsky was awarded by China Government as part of President Xi's Thousand Talents Award in Jiangsu Province.
In addition to his performing career, Mogilevsky holds the post of Distinguished Professor and Director of thePiano Program at Suzhou University of Science and Technology in Suzhou, Shanghai region, China. He is also anartistic advisor to the Jiangsu Center for the Performing Arts, China, where he was instrumentally introducing toChinese audiences such superstars as Anna Netrebko, Denis Matsuev, Leif Segerstam, EsaPekkaSalonen,KrystianZimerman, Chopin Competition Gold-medallist Dang Thai Son, Lang Lang's teacher pianist MengChiehLiu, and the 1977 Van Cliburn competition winner Alexander Toradze. When not travelling, he resides in China,Russia, Europe and the United States.